Peter F. Schmid (Ed. | Hg.)

BIBLIOGRAPHY CARL R. ROGERS
BIBLIOGRAPHIE CARL R. ROGERS
1922–1997
Complete, chronological and alphabetical catalogue of original editions and German translations, including both, writings and films with an appendix including selected audio and video tapes and indices of names, titles and subjects
Vollständiges, chronologisches und alphabetisches Verzeichnis der Originalausgaben und der deutschsprachigen Übersetzungen der Schriften und Filme mit einem Anhang über Audio– und Videokassetten sowie Namens–, Titel– und Sachregistern
English & deutsch
8th edition | 8. Auflage 1997/98
100 Seiten, 190 öS • 29 DM • 25 sFr

Cover

Description | Kurzbeschreibung

Contents | Inhaltsverzeichnis

Sample page | Beispielseiten


The Rogers Bibliography Online| Die Rogers-Bibliografie im Internet




THE CARL ROGERS BIBLIOGRAPHY

The chronological bibliography lists all printed original publications (American, and other languages) of Carl Rogers (1902–1987) as well as all published German translations. It includes also his unpublished papers and many interviews. In addition, there is a summary of his films and some selected video and audio tapes (cassettes). The indices help to find publications, e. g. by their title (alphabetical bibliography) or part of it, by the subject and by the name of co–authors, editors and case study persons.

DIE KOMPLETTE ROGERS–BIBLIOGRAFIE

Die chronologische Bibliografie enthält alle gedruckten Originaltitel (amerikanisch, aber auch in anderen Sprachen) von Carl Rogers (1902–1987) sowie alle publizierten deutschsprachigen Übersetzungen; darüber hinaus seine veröffentlichten, aber nicht gedruckten Manuskripte (Vortragsunterlagen, Rundbriefe etc.) und zahlreiche Interviews. Im Anschluss sind seine Filme und — in Auswahl — Videobänder, Tonbänder und Audiokassetten angeführt. Die Register ermöglichen das Auffinden von Publikationen beispielsweise nach dem Titel (alfabetische Bibliografie) oder Teilen des Titels (Titelregister), nach dem Thema (Sachregister) und nach dem Namen von Co–Autoren, Herausgebern und Personen aus Falldarstellungen (Namensregister).
Abbreviations and their translations| Abkürzungen und deren Übersetzungen
Sources | Quellen
Chronological bibliography | Chronologische Bibliografie
Publications (original publications & German translations) | Publikationen (Originale und deutschsprachige Übersetzungen)
Films | Filme
Selected video tapes | Videokassetten (Auswahl)
Selected audio tapes |Tonbänder, Audiokassetten (Auswahl)
German translations of the books | Chronologische Übersicht über die deutschsprachigen Übersetzungen der Bücher
German pocket book editions | Deutschsprachige Taschenbuchausgaben
Alphabetical bibliography | Alphabetische Bibliografie
[on yellow pages | auf gelben Seiten]
Index of names | Namensregister
Co-authors of Rogers, editors, interviewers, editors of transcripts and of posthumous works, names appearing in titles, persons of case studies
Index of titles | Titelregister
Rogers' publications, books with articles by Rogers, interviews
Index of subjects | Sachregister

Carl Rogers: Chronological bibliography | Chronologische BibliographiePage | Seite 20

(1960)
& BUBER, MARTIN,
MARTIN BUBER AND CARL ROGERS
in: Psychologia. An International Journal of Psychology in the Orient (Kyoto University) 3,4 (1960) 208-221
[the dialogue was held at Ann Arbor, organized by the University of Michigan on April 18, 1957]

also (slightly condensed) in: Buber, Martin, The knowledge of man, London 1965, 166-184;
also in: Kirschenbaum, Howard / Land Henderson, Valerie (eds.), Carl Rogers: Dialogues, Boston (Houghton Mifflin) 1989, 41-63;
also DIALOGUE BETWEEN MARTIN BUBER AND CARL ROGERS, ANN ARBOR, MICHIGAN, APRIL 18, 1957 [new, corrected transcript from the audiotape by Kenneth N. Cissna and Rob Anderson] Manuscript 1994

dt.: CARL ROGERS IM GESPRÄCH MIT MARTIN BUBER
in: Arbeitsgemeinschaft Personenzentrierte Gesprächsführung (Hg.), Persönlichkeitsentwicklung durch Begegnung. Das personenzentrierte Konzept in Psychotherapie, Erziehung und Wissenschaft, Wien (Deuticke) 1984, 52-72

auch in: Schulfach Religion 1/2 (1983) 33-59;
auch in: Buber, Martin, Werke in drei Bänden, München 1962
auch (gekürzt) in: Behr, Michael / Esser, Ulrich / Petermann, Franz / Pfeiffer, Wolfgang M. / Tausch, Reinhard (Hg.), Jahrbuch 1992 für personzentrierte Psychologie und Psychotherapie, Band III, Köln (GwG) 1992, 184-201 [andere Übersetzung]
(1960)
& WALKER, ALAN W. / RABLEN, RICHARD A.,
DEVELOPMENT OF A SCALE TO MEASURE PROCESS CHANGES IN PSYCHOTHERAPY
in: Journal of Clinical Psychology 16,1 (1960) 79-85

= DEVELOPMENT AND APPLICATION OF A SCALE TO MEASURE PROCESS CHANGES IN PSYCHOTHERAPY
(manuscript) 1958
[unpublished paper presented at the APA convention, Washington D. C., Septermber 1958]



1961

(1961a)
ON BECOMING A PERSON. A THERAPIST'S VIEW OF PSYCHOTHERAPY,
Boston (Houghton Mifflin) 1961 (420pp.)
contains | enthält: Rogers 1955b, 1954a, 1958a, 1961h, 1953c, 1956f, 1958b, 1960b, 1957d, 1955a, 1955d, chapter 10 from Rogers / Kinget 1959, Rogers 1957c, 1959g, 1952b, 1954e, 1961e; (the following chapters are published for the first time | neu publiziert sind die Kapitel: 16 [= Rogers 1953f (manuscript)]and 18)

dt.: ENTWICKLUNG DER PERSÖNLICHKEIT. PSYCHOTHERAPIE AUS DER SICHT EINES THERAPEUTEN,
Stuttgart (Klett) 1973 (407 S.)
(1961b)
THE PROCESS EQUATION OF PSYCHOTHERAPY
in: American Journal of Psychotherapy 15,1 (1961) 27-45

also in: Hart, Joseph T. / Tomlinson, T. M., New directions in client-centered therapy, Boston (Houghton Mifflin) 1970, 190-205
(1961c)
THE LONELINESS OF CONTEMPORARY MAN, AS SEEN IN »THE CASE OF ELLEN WEST« [*]
in: Review of Existential Psychology and Psychiatry 1,2 (1961) 94-101;
[contribution to 1958 symposium of American Academy od Psychotherapists on the case of Ellen West];

also in: Kirschenbaum, Howard / Land Henderson, Valerie (eds.), The Carl Rogers Reader, Boston (Houghton Mifflin) 1989, 157-168;
extended version | erweiterte Fassung: »ELLEN WEST — AND LONELINESS«, in: Rogers 1980a, 164-180;

dt.: ELLEN WEST — UND EINSAMKEIT [*]
in: Rogers / Rosenberg 1977, dt. 1980, 94-103

[*Binswanger, Ludwig, Der Fall Ellen West, in: Schweizer Archiv für Neurologie und Psychiatrie 53 (1944) 255-277; 54 (1944) 69-117, 330-360; 55 (1945) 16-40 |
Binswanger Ludwig, The case of Ellen West, in: May, Rollo / Angel, Ernest / Ellenberger, Henri F. (eds.), Existence. A new dimension in psychiatry and psychology, New York (Basic) 1958]

(1961d)
PANEL PRESENTATION: THE CLIENT-CENTERED APPROACH TO CERTAIN QUESTIONS REGARDING PSYCHOTHERAPY
in: Annals of Psychotherapy 2 (1961) 51-53
(1961e)
THE PLACE OF THE PERSON IN THE NEW WORLD OF BEHAVIORAL SCIENCES
in: Personnel and Guidance Journal 39,6 (1961) 442-451;

in expanded form | erweitert: THE BEHAVIORAL SCIENCES AND THE PERSON
in: Rogers 1961a, 361-402 [part VII = chapter 20 and 21];

dt.: DIE VERHALTENSWISSENSCHAFTEN UND DER MENSCH
in: Rogers 1961a, dt. 1973, 350-389 [VII. = Kapitel 20 und 21]

publiction is available in the Vienna archive of Peter F. Schmid | Publikation im Wiener Archiv erhältlich


publication is not in the Vienna archive | Publikation noch nicht im Archiv
Books are underlined | Bücher sind unterstrichen
German translations are printed in bold letters | Deutsche Übersetzungen sind im Fettdruck hervorgehoben
Index of names | Namensregister

AAP Tape Library
audio tapes
Abt, Leonard E.
1960a
AG der evangelischen Religionslehrer an AHS in Österreich
1983j
Anderson, H.
1954e, 1965e
Angel, Ernest
1959h, 1961c
Ann, Peter (client on video)
V-1985a
......
Yalom, Irvin D.
1980a
Zeig, Jeffrey K.
1986e
[ZUCCONI, ALBERTO]
1979g
.
---
Index of titles | Titelregister

A basic orientation for counseling
Rogers / Becker 1950
A belated »declaration of independence«
1974m
A client-centered / person-centered approach to therapy
1986h
A comment from Carl Rogers (to the new journal Person-Centered review]
1986f
........
Writing person to person. Letters from Carl [Barrett-Lennard, G. T.)
1987e
Zu einer menschlicheren Wissenschaft vom Menschen
1985a
Zu einer Theorie der Kreativität
1954e
Zwischenmenschliche Beziehung und Förderung des Lernens
1967f

---
Index of subjects | Sachregister

AA Tape Library
tapes
AAP
tapes; v. American Academy of Psychotherapists
ABEPP policies
Rogers / Marquis / Hilgard 1950
abnormal behavior
1963e
abnormal psychology
1951f, 1963e
active listening
Rogers/Farson 1957
.......
Zusammenleben
1972a
zwischenmenschliche Beziehung(en)
1959a, 1962a, 1967f, 1973b


Overview of books and order form | Übersicht Bücher & Bestellung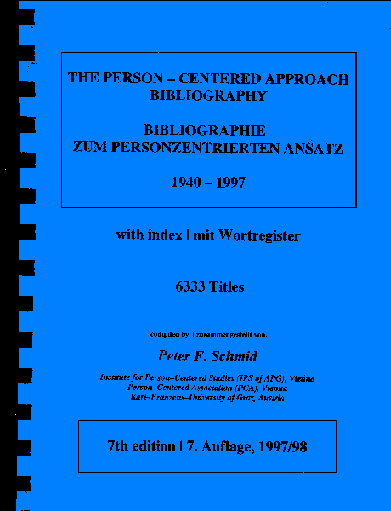 The PCA Bibliography


The Carl Rogers Bibliography Online | Die Rogers-Bibliographie im Internet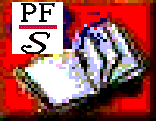 List of publications by Peter F. Schmid| Bibliografie PFS

English mainpage


Mainpage | Hauptseite


Top of page| Seitenanfang